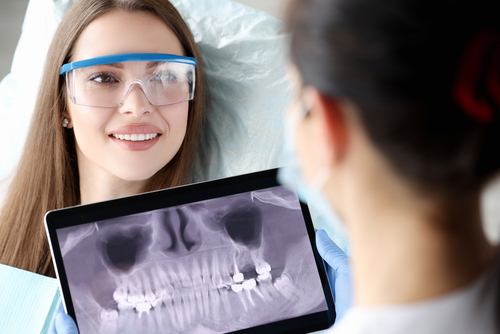 Do you have a family full of dental problems? Dental problems are some of the most common health issues, but Affordable Family Dental can help you keep everyone's smile on track in Olympia or Tumwater, Washington! Dr. Ajaipal Dhanoa offers a wide range of services in Oly, such as teeth cleanings, fillings, crowns, and dental exams. Our exams and preventative dentistry can help keep you and your family out of the dentist's chair. And we accept many insurance plans!
Don't let your family suffer from dental problems any longer. Our services are gentle, effective, and affordable. We will work with you to create a treatment plan that fits your budget and your needs. And we offer convenient payment options to get the care you need without breaking the bank.
What is a Dental Exam, and What Does it Entail?
A dental examination is a visual and tactile assessment of your teeth, gums, and mouth. The examination can help Dr. Dhanoa detect any problems or potential problems. The checkup will also help him determine how best to treat any existing issues and prevent future ones.
During the exam, Dr. Dhanoa will:
Look for any signs of tooth decay, gum disease, or other problems

Check your bite and how your teeth fit together

Check for any loose teeth, broken teeth, or other damage

Look for any signs of oral cancer

Evaluate your risk for tooth decay and gum disease
Why are Dental Exams Important?
Dental exams are important because they can help catch problems early when they are easier to treat. By getting regular dental exams, you can help keep your teeth and gums healthy and avoid more severe problems down the road.
Who Should Get Regular Dental Exams?
Everyone should get regular dental exams, starting at a young age. Children should see a dentist when their first tooth comes in and then every six months after that, and adults should see a dentist at least once a year for a regular exam and cleaning. If you have a history of dental problems, you may need to see the dentist more often.
What to Expect During Your First Dental Exam in Oly Tumwater, Washington
Your dental exam will be at our state-of-the-art facility near Olympia/Tumwater, Washington. Your first dental exam will be similar to subsequent exams, but there may be some additional steps. Dr. Dhanoa and his team will take a medical history and ask about any dental problems you have had in the past. They will also examine your teeth and gums and check your bite. If necessary, they may take X-rays or make impressions of your teeth.
After the exam, Dr. Dhanoa will discuss his recommendations with you. He will also answer any questions you have about caring for your teeth or preventing future problems.
Oly Dental Exams
At Affordable Family Dental, we are proud to offer comprehensive dental care for patients of all ages. Our caring and experienced team provide a full range of services, from routine cleanings and exams to more complex procedures. We understand that each patient has unique needs, and we take the time to listen to your concerns and develop a treatment plan that is right for you.
We believe that dental care should be affordable and accessible for everyone. We offer various financing options and accept many major insurance plans. We also offer convenient office hours with extended weekday availability to fit your busy schedule.
Our goal is to provide quality dental care in a warm and welcoming environment. We look forward to meeting you and becoming your partner in achieving optimal oral health! Don't wait for dental issues to develop – call us today to schedule an Oly dental exam.