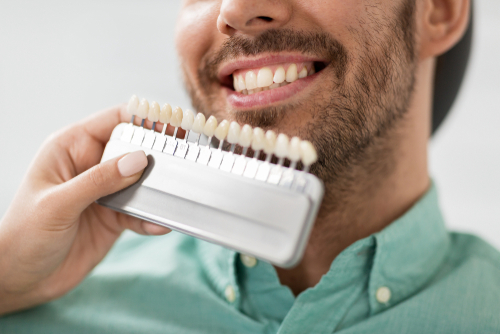 Are you unhappy with the appearance of your teeth? Are you looking for a quick, easy way to improve your smile? Our dental veneers are the perfect solution! They'll instantly improve your teeth' color, shape, size, or length.
Let Affordable Family Dental show you how easy it is to get the beautiful smile you've always wanted!
What are Dental Veneers, and What Do They Do?
They are thin, custom-made shells designed to cover your teeth' front surface. They're made from porcelain or ceramic and match your natural tooth color. Veneers are an excellent way to improve the appearance of your teeth, and we can use them to correct a wide variety of dental problems, including:
Discolored or stained teeth

Chipped or cracked teeth

Misaligned or irregularly shaped teeth

Gaps between teeth
Who Are Dental Veneers For?
They are an excellent solution for anyone unhappy with their teeth' appearance. They're also suitable for avoiding more invasive dental procedures, such as braces.
How Much Do Dental Veneers Cost?
The cost will vary depending on the number of teeth you have treated and the material used for your veneers. However, dental veneers are generally more affordable than other cosmetic dental procedures.
We will provide helpful cost estimates during your consultation to help you decide if veneers are right for you. We work with many insurance groups and will even file your claim. And we have payment options to help you manage your quality dental service cost. 
What are the Benefits of Dental Veneers?
There are many benefits, including:
They're durable and long-lasting

They're stain-resistant

They're easy to care for

We can use them to correct a wide variety of dental problems

They can give you a beautiful, natural-looking smile

They can improve your self-confidence

They can enhance your oral health
With proper care, they can last for many years. The better you care for your veneers, the longer they can last. Taking good care of your veneers includes brushing and flossing regularly and avoiding foods that can stain your teeth. 
And take care when using your teeth to bite! Chew carefully when eating something that might break or loosen your veneers, such as hard candies or popcorn that might have an unpopped popcorn kernel. And please don't use your teeth for things like opening packaging or cutting tape! You should also see your dentist for regular checkups and cleanings.
Are There Any Risks or Side Effects Associated with Dental Veneers?
There are very few risks or side effects associated with dental veneers. The most common side effect is temporary sensitivity to cold or hot temperatures. The sensitivity usually goes away within a few days after the veneers are applied. 
In sporadic cases, the veneers may come loose or fall off. If this happens, contact Affordable Family Dental right away. We can help you restore your veneers quickly.
What is the Process for Installing Dental Veneers?
The process for installing them is straightforward:
Dr. Dhanoa will consult with you to discuss your goals and objectives.

We'll prepare your teeth for the veneers by removing a thin layer of enamel.

We'll take impressions of your teeth and send them to the lab.
Once the veneers are ready, we'll bond them to your teeth using a special dental adhesive.
High-Quality Dental Veneers in Tumwater and Olympia, Washington
You'll love our high-quality dental veneers! They look natural and will make you feel more confident when you smile. 
Contact Affordable Family Dental today to schedule an appointment! We're here to help you achieve your goals for a beautiful, healthy smile!