Dental Implants Are The Solution For Missing Teeth
Dental Implants Are The Solution For Missing Teeth. Missing teeth can cause a lot of problems with chewing and patients' confidence in their smile. Having a healthy and confident smile is important for your overall health and self esteem. If you are missing teeth consider dental implants in the 98501 area with Affordable Family Dental. We offer state of the art technology and skilled doctors to give you the best dental care in the Tumwater, Olympia, and Lacey areas.
What are Dental Implants in Tumwater, Olympia, Lacey.
A basic understanding of dental implants is that they are a replacement for missing teeth that replaces the entire tooth from the root to the crown. Dental Implants are made of multiple parts.
The Dental Implant: This is a highly specialized titanium post which is made to be biocompatible with your body. This titanium post is inserted into the jawbone to replace the "root" of the tooth.
The Implant Abutment: The dental abutment is the connector which connects your Implant crown to the Implant body.
The Implant Crown: This is the part of the Implant procedure that you see in the mouth. It is the crown of the tooth and what most people think of when they think of a tooth. This is the last step in your dental implant procedure!
Our office Affordable Family Dental in Tumwater serves patients from all over Thurston County and provides implant procedures for patients in need of this service. We will assess your jaw with a 3D scan to determine the quality of the jaw bone and if and what type of implant would best suit your needs
3 Cool facts of Dental Implants for Olympia, Lacey and Tumwater
1. Dental Implants fuse with bone. The implant heals and fuses to bone over time which gives it strength and resiliency to support a tooth's chewing function and pressure. This is called osseointegration. The implant will integrate with the bone!
2. Dental Implants have over a 95% success rate! This is a very reliable treatment to replace missing teeth
3. Dental Implants "preserve" bone. After a tooth is lost your jawbone will shrink and resorb causing bone loss in the area of the missing tooth. The Dental Implant helps preserve bone by promoting osseointegration and function.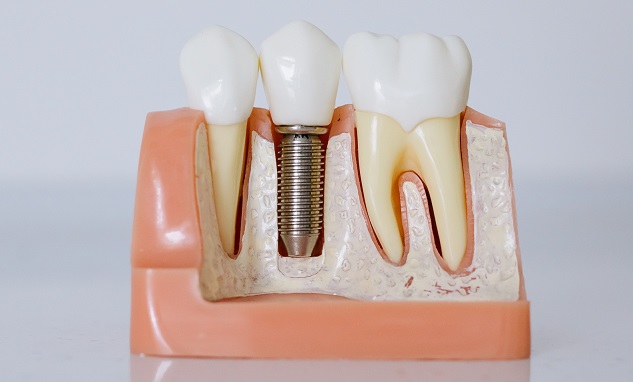 How to take care of your dental implant
Just like natural teeth a dental implant needs to be kept clean. That means brushing and flossing around them as you would with your other teeth. Keeping your oral hygiene in good condition will prevent gum disease around the implants. Gum disease around implants is called peri-implantitis. If the area is not kept clean then the implant may require removal!
Are Dental Implants Right For You?
Dental Implants can help many patients with their oral health. Give Affordable Family Dental a call today for a consultation to discuss your treatment options!