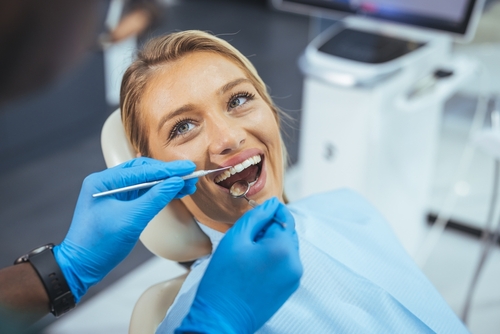 Dental care can be expensive, but it doesn't have to be! At Affordable Family Dental in the Tumwater and Olympia, Washington area, we provide quality dental care at a price that fits your budget. We offer various services, such as teeth cleanings and fillings. We even offer financing through CareCredit so you can get the dental care you need without breaking the bank. Dr. Ajaipal Dhanoa is your go-to Oly Dentist!
We know dental care is vital for your overall health, so we offer affordable options that make it easy to get the care you need. Our convenient location and friendly staff make getting dental care easy and stress-free.
Schedule an appointment today!
Your Go-To Dentist in Olympia and Tumwater, Washington
Looking for an affordable, quality Oly dentist? Live near Olympia and Tumwater, Washington? Then look no further than Affordable Family Dental. Our experienced dentist and caring staff provide a wide range of dental services to patients of all ages, from preventive care to complex restorative procedures.
We understand that finding a new dentist can be a daunting task. There are many factors to consider, from location and office hours to the types of services offered and accepted insurance plans. But our team is here to help make the process as easy as possible.
We offer a wide range of dental services, including:
Preventive care is the best way to maintain healthy teeth and gums. We offer many services to keep your smile looking its best, including regular cleanings, fluoride treatments, and sealants. We also provide education on oral hygiene habits, such as brushing and flossing. By taking advantage of our preventive care services, you can help avoid more serious dental problems. In addition, preventive care can save you money by catching problems early, when they are typically less expensive to treat.
We also understand the importance of good periodontal care. That's why we offer a wide range of periodontal services to help you maintain healthy gums, including deep cleanings, scaling, and root planing. We provide education on proper oral hygiene habits to help control gum disease.
Affordable Family Dental is passionate about providing restorative care that helps our patients achieve and maintain optimal oral health. We provide fillings, crowns, bridges, implants, and more. We understand that each patient has unique needs, and we take the time to create a personalized treatment plan that meets those needs. You can be confident that you will receive the highest quality care at an affordable price.
Crowns and bridges help you bring your healthy smile back. A dental crown covers a tooth that is damaged or decayed. In addition, crowns can be used to support a dental bridge, which is used to replace one or more missing teeth. There are many benefits to getting crowns and bridges, including improved appearance and function. Crowns and bridges can also help to prevent further damage to your teeth.
Tooth extractions are typically performed when a tooth is severely damaged, decayed, or infected. Sometimes, a tooth may need to be extracted in preparation for orthodontic treatment. We also offer tooth extractions as a last resort when other treatment options are not possible or practical.
And More
We also accept many major dental insurance plans, and we offer financing options to make dental care affordable for everyone. Plus, our extended weekday office hours make it easy to get the care you need when you need it.
Your Oly Dentist
We are here to provide your dental solutions if you're looking for an affordable, quality dentist in Olympia or Tumwater. Contact us today to schedule an appointment! You and your family will be glad you did; it will be apparent in your bright, healthy smiles!